Construction on base project based projects that involve pre-project stages, preparation, maintenance and maintenance.
Time and expense are spent at this stage. Construction involves some operational processes categorized as difficult to perform, since not many erp samples could support the need for data for integration.
The construction industry has been growing and growing for the past decade.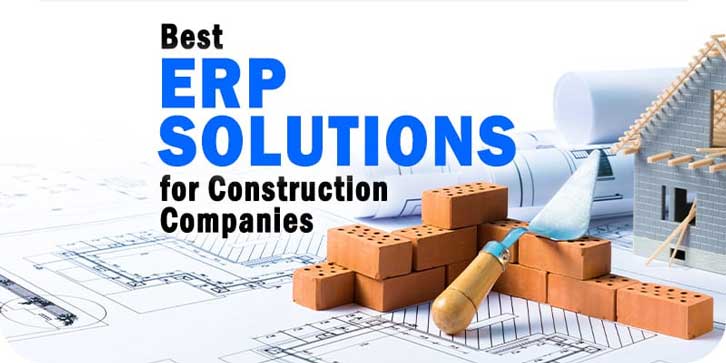 It involves a lot of costs, labor and material management that rarely has any involvement with software for its operation.
Although there are now many construction management software on the market, very few still involve all aspects including very difficult field data to digitize.
However, if a company applies an erp system to construction, it will be able to manage the cost of the project and the overall project easily.
Specifically consider the following subject erp software for construcion.
Understand Risk Management before ERP Implementation
As for independent management information systems, such as finance & accounting without controlling and cost planning focused on record-keeping and output, project management without documentation focused on time & progress, human resource without funding for projects that focus on basic needs
In general we will discuss the basic stages in the construction sector as follows:
pre-project
At this stage the company will do a tender process, aanwijzing, presentation up to bid. Certainly need to document the whole step in order to be evaluated
Project preparation
At this stage the company will make sure all administrative documents are completed such as SPMK, subcon selection, and mobilization of personnel and infrastructure
Project implementation
At this stage the entire implementation of the project will be monitored from progress, time, cost, obstacles and documentation
Project maintenance
At this stage the whole project will be monitored for complaints on maintenance so as to guarantee execution results are no problem
Project shutdown.
At this stage it will document all execution results, profit-loss and evaluation
How do you select the right erp software and the ideal for the construction sector?
When they decide to implement erp software for construction companies, they must document steps and processes and decide which ones will be digitalized and consult to erp solutions providers.
As for the benefit of consulting with erp solutions providers, among other things:
know the existing step and process solutions.
know cost estimate and time to implement
and know things to prepare including risk management and change management
In implementing the erp throughout the & process process will certainly cost a lot of time.
As for tips in the erp implementation in the construction sector, among other things:
risk item identification that can occur in each stage and process.
identify & risk source of identification on cost, scope & time
identify necessary treatment measures
implement an erp from stage that is less affected
An application (application) erp at the construction company
Some examples of erp implementation in companies, such as pt unilever and the service company, can you note the following:
analytic
The first example is an erp application that deals with analytic systems. Analytic systems of the digital age such as today are urgently needed to collect data accurately and to make precise and speedy decisions.
warehouse
The second example is an erp application related to the warehouse system. It can also be integrated into a supply chain management system (SCM). The system aims to configure storage and distribution of goods, warning, work responsibilities, tracking and so forth.
Human resource
The last example is the erp application associated with a human resource system. With this system the company can find the right talent, develop SDM quality, transparency data and others that can decrease or simplify the company's problems. This system is normally used by human resources division for better human resources.
Benefit erp for a company that succeeds in its application
Here's the explanation:
Establish standardized procedures
For an erp system that is basically implemented by using the best international practice process and adopted by a company that is implementing it.
The erp can make a job more structured so that they will not be strung up against specific or individual jobs.
Corporate erp apps more can improve efficiency as well as effectiveness.
Better integration of business and data accuracy
In the erp system, there are various modules along with ones that can provide specific business component representatives.
If there is eventually a data input into the module, then for others, such as payment and supplies will be automatically updated.
Such updates are realistic or precise when a transaction occurs.
The data to be entered requires only one input at the time of the transaction so it doesn't bother to enter one into the other.
So it would not require multiple input data so that the occurrence of errors in the injection could be more to minimize.
Having a centralized database structure is also more likely to enable better administrative and security processes and can avoid such vital data loss.
Increasing efficiency and productivity
Not only will a better plan provide, an erp system can to increase efficiency in daily routine activities.
For example, sales realization, performance, delivery, cash management, quality supplier and management performance.
Using the erp system for cash time cycles and its payments to the supplier will be much more shortening.
System information and planning
The erp system has good decision-making tools, such as planning, simulations that can help in the management of information systems to make better use of its resources as its materials, performance equipment and resources.
Erp application recommendation for a construction company
Below are examples of possible erp applications in construction companies, such as:
Gterp – erp software
Erp netsuite
Sage intitching
"Brightpearl"
Erp odoo
And a lot more.
Conclusion
Construction on base project based projects that involve pre-project stages, preparation, maintenance and maintenance.
Although there are now many construction management software on the market, very few still involve all aspects including very difficult field data to digitize.
hat's why the above explains what kinds of erp software  for construction applications could be known.
Baca Juga: