The apparel industry offers numerous opportunities for financial success. Zippia reports that the fashion business contributes 2% to global GDP and is expanding faster than ever.
According to forecasts, the US fashion market will grow by 18.4% from 2021 to 2022.
As a result, many retailers want to do business in this space, which has greatly increased the demand for fashion business software.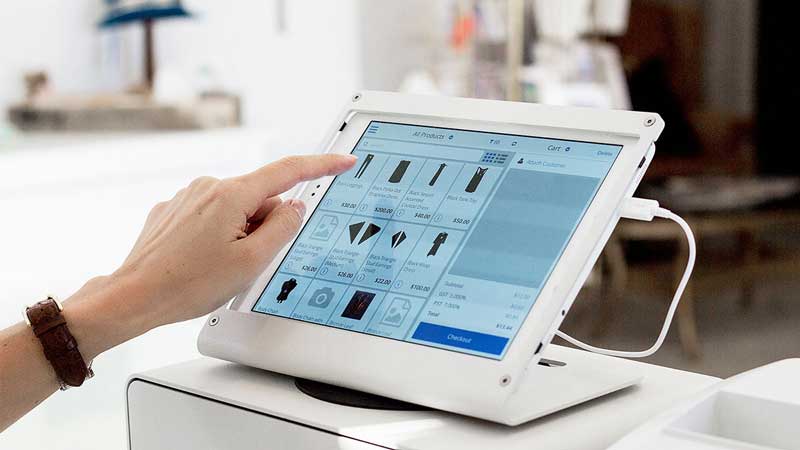 In this case, a POS system is an important part of an offline fashion or clothing store.
With so many POS providers on the market, you should carefully consider which one best suits your business needs.
Read to: Best POS System for Restaurant
In this article, we will suggest the best 2 POS systems for clothing stores.
How To Choose POS System For Clothing Store?
Every company has its own requirements that must be considered.
Choosing the right POS for your needs should consider your business type and size, budget, hardware requirements, and other specialized features such as mobility, self-checkout, and workforce management tools.
Different POS software will meet your specific needs.
Here we can list the top POS software in three main types:
1. Best All-Rounder System With Omnichannel Selling
All-in-one POS systems include software and hardware peripherals from the same vendor.
This type of POS is becoming more and more popular as it is very convenient for retailers.
And some all-in-one POS systems use omnichannel selling, so you can manage your business operations across online and offline channels.
Data must be synchronized and updated in real time to provide a consistent and seamless customer experience.
The best retail software with omnichannel selling features to list is the Magestore POS system for fashion boutiques.
Another option, Shopify POS is also very popular.
2. Best For A Start-Up Business With Ease Of Use
Startups need POS software that's not expensive, provides enough basic functionality, and is easy to customize and integrate with other software as they grow.
Square is recognized as the best apparel software for small businesses.
Square's free plan offers enough of its POS features for a small business owner to start selling with no overhead.
This pricing model differs from many other POS providers that charge by checkout rather than by location.
Paying by location helps merchants with a large number of registers to control costs.
3. Best For Big Businesses With Large Warehouses
For fashion companies with large warehouses and a wide range of inventory, companies with strong inventory and multiple warehouse management should be considered.
Lightspeed can be considered the best inventory software at the moment.
Known for its superior inventory management and multi-channel sales capabilities, Lightspeed Retail is ideal for rapidly expanding businesses that need to track large volumes of inventory and synchronize online and offline transactions.
Lightspeed's dedicated inventory tools allow you to create orders and fill them with multiple suppliers.
2 Best POS System For Clothing Stores
A strong POS system has a significant impact on the success of a clothing store as it enables efficient sales and inventory management to increase profit margins.
The best 2 POS Systems listed below are recommended as the best cash register for your store.
Explore their features, strengths, and weaknesses to see how they fit your store's needs.
1. Lightspeed Retail
Lightspeed retail is best for large inventories
Lightspeed Retail POS is a hybrid POS system designed for multiple types of retailers with a very rich feature set, built-in processing, e-commerce integration, and other perks.
There are dozens of integrations that can meet the needs of nearly any retailer and keep your business up to date.
1.1 Feature
Here are some features of Lightspeed Retail:
Multi-Store Support
Contactless Payments
Multi-Channel Selling: Standard plan and up
Gift Cards
Customer Loyalty: Advanced plan
Marketing Tools: Standard plan & up
Online Ordering: Standard plan & up
Inventory Management
Reporting
Employee Management, and
Text Messaging
1.2 Price
Here is the detail about Lightspeed Retail POS plan, cost, and when to use.
| | | |
| --- | --- | --- |
| Lightspeed Retail POS Plans | Cost | When To Use |
| Lightspeed Retail POS Lean | $89/month ($69/month billed annually) | For medium to large businesses that need a POS with retail-specific features |
| Lightspeed Retail POS Standard | $149/month ($119/month billed annually) | For businesses that need a POS with retail-specific features as well as accounting integration and e-commerce |
| Lightspeed Retail POS Advanced | $269/month ($199/month billed annually) | For businesses that need POS with retail-specific features, accounting integration, e-commerce, and loyalty |
1.3 Pros and Cons
Here are some pros and cons you should know:
| | |
| --- | --- |
| Pros | Cons |
| You can operate POS via web browser | Must subscribe for 1 year and use Lightspeed |
| Advanced omnichannel inventory management | Payments for the best price |
| Omnichannel Loyalty | Advanced features are only available at higher price points |
2. CLOVER
Clover is best all-in-one system.
Clover POS is POS software that enables small to medium-sized retailers, restaurants and hospitality businesses to make direct payments and sell online.
Clover POS software is only compatible with Clover POS hardware.
Clover POS software is simple, customizable and easy to set up.
2.1 Feature
Clover POS software has some features, namely:
Multi-Store Support
Contactless Payments: Depends on hardware choice
Multi-Channel Selling
Gift Cards
Customer Loyalty
Marketing Tools
Online Ordering: Depends on software plan
Inventory Management
Reporting
Menu Management
Delivery Management
EBT Acceptance: Add-on app
Employee Management, and
Text Messaging
2.2 Price
Clover prices can be very volatile.
This is because you can purchase its Clover hardware and payment processing services from Clover or a Clover reseller.
| | | |
| --- | --- | --- |
| Clover POS Plans | Cost | When To Use |
| Clover Payments | $0/month | If you just want to process payments and don't need POS hardware |
| Clover Essentials | $14.95/month | If you are a small retail/hospitality business and do not accept returns |
| Clover Register | $44.95/month or $54.90/month | If you have a small to medium retail/hospitality business and need more POS functionality |
| Clover Counter Service Restaurant | $44.95/month or $54.90/month | If you run a quick service restaurant, cafeteria or mobile catering business |
| Clover Table Service Restaurant | $74.95/month, $84.90/month, or $94.85/month | If you've got got a full-provider eating place or bar |
2.3 Pros and Cons
Here are some pros and cons you should know:
| | |
| --- | --- |
| Pros | Cons |
| Customizable to fit any business need | Must be purchased with a Fiserv Merchant Account |
| Hardware comes with software and merchant account | Possibility of expensive dealer contracts |
| Elegant and robust POS hardware | Clover hardware cannot be reused on other POS |
Conclusion
A POS system for boutique retail sales offers special features specifically tailored to the needs of clothing stores/boutiques.
However, that doesn't mean that a boutique POS system costs a lot of money.
All of the above boutique POS systems are easy-to-use, web-based systems that are much cheaper than traditional on-premise Windows-based software.
The beauty of cloud-based systems is that you can pay for what you want and try the software before you buy.
And since they often use the same (or nearly the same) equipment, you can use the same iPad, card reader, Bluetooth scanner, etc. for different POS systems. (Except Clover POS System).
Baca Juga: