These grocery store POS options offer robust inventory management and in most cases also feature EBT, WIC, lottery, and controlled substances.
A good grocery store POS system has many requirements.
A grocery store POS should have good inventory, staff, and cash management capabilities.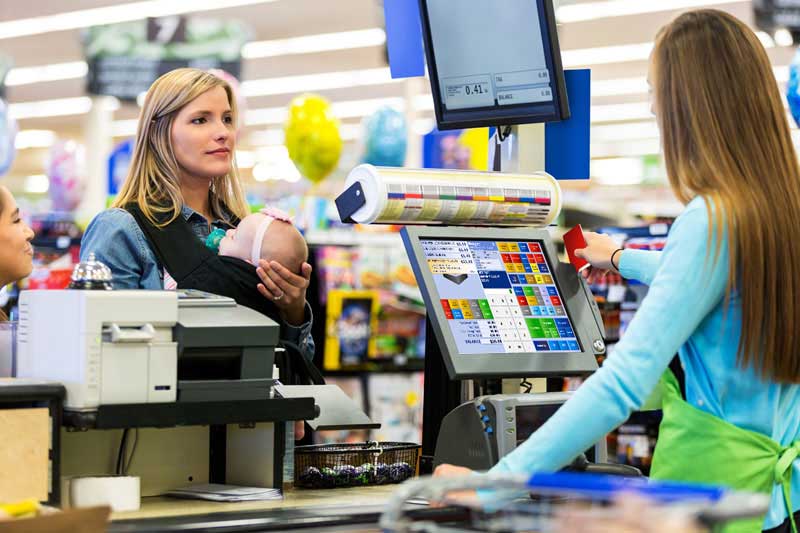 The supermarket POS also requires EBT, WIC, lottery, and controlled substance vending capabilities.
Read on to find the best grocery outlets.
Best POS System For Grocery Stores
Here are the features, price, and pros and cons of each POS system for grocery store, such as:
1. eHopper POS
eHopper allows small businesses across the United States to sign up and use its software completely free.
There are no setup fees, monthly fees, or processing fees.
This gives a license to use the software on one of its POS stations.
Inventory is limited to 50 products, with a maximum of 300 transactions per month.
To get unlimited products and transactions, plus additional registry, e-commerce support, loyalty programs, and other features, you can upgrade to the Omnichannel plan for $359.88 annually.
eHopper works on Poynt devices, Android devices and Windows PCs.
Buy all the hardware you need directly from eHopper, including tablets, desktop computers, printers and cash drawers.
Free transaction processing is done by cash discount or credit surcharge.
Pay the processing fee or pass the fee to the customer.
1.1 Features
Here are some features of eHopper POS, such as:
Free E-Commerce Site
eHopper gives merchants a free e-commerce website that syncs with their offline POS.
Features include free SSL certificates, free content delivery network (CDN), onboarding, SEO optimization, customization, reporting, reviews, blogging, social selling, and the ability to use your own domain.
Credit Card Processing
eHopper supports numerous credit card processors.
These are Evo Payments International, GoDaddy Payments, Nuvei, North American Bank, TSYS, First Data, Global and Elavon.
eHopper also offer free processing to US customers with a credit surcharge and cash discount program.
Cash discount programs are available in all states, but some states do not allow credit surcharges.
These states are Colorado, Connecticut, Kansas, Maine, Massachusetts, and Oklahoma.
Loyalty Program
Encourage customers to keep coming back with eHopper's loyalty program.
To access it, you must have an Omnichannel plan and pay for your subscription.
The first 1,000 loyalty accesses cost $19.99 per month, and each additional 1,000 loyalty accesses add $9.99 per month.
Set your own rules and rewards, customers can sign up with physical points their cards or mobile phone number.
Then segment your list and run a report to see your analysis.
It is available for iPad, PC, Android tablet, Poynt, and all-in-one POS.
1.2 Price
Each plan is discounted by paying for one year in advance.
After trying it for a while, you can save $10/month by subscribing for a year.
The Essential plan offers a knowledge base only when you need help, while the Omnichannel plan offers email, chat, phone support, training, account, and inventory setup.
Plans offered by eHopper include:
Essential
Essential is eHopper's free plan.
Limited to 1 POS, 50 products, and 300 transactions per month.
Free processing is available for US customers and all users can manage inventory, customers, chips and modifiers.
It also comes with a basic report.
OmniChannel
For $39.99/month, eHopper's omnichannel plan includes dual licenses, unlimited products, table management, e-commerce, unlimited deals, pre-approvals, EBT, menu creation, customer support, integration with QuickBooks, low stock notifications, and redemptions.
It provides functions such as Employees can clock in and out, and customers can save orders and pay later.
1.3 Pros and Cons
Here are some pros and cons using eHopper POS:
Pros
Cons
Integrated with QuickBooks
Not compatible with Apple devices
Self-service kiosks available for self-checkout
No discount for CO, CT, KS, ME, MA, or OK companies
Free transaction processing

accept EBT

Internet connection required to process debit and credit cards
Paid plans include phone, email and chat support
2.Paypal Zettle POS
PayPal has been rated as one of the top 10 point of sale (POS) systems for 2023. It's also one of the top 10 credit card processing platforms (although it ranks high for POS systems).
PayPal allows small business owners to process payments through a platform their customers trust.
PayPal offers many services for business owners, but its range of services can be a bit confusing if you're just starting to process payments.
You can accept payments on our website.
You can also use PayPal to accept personal payments. B. For retail stores or holiday fair stands.
2.1 Features
PayPal offers a Seller Protection Program to eligible merchants.
You as a merchant are protected if the buyer disputes the transaction.
2.2 Price
Buy hardware a la carte and use software for free.
The first card reader is $29 (down from $79).
Payments will be credited to your PayPal account within 1 business day.
2.3 Pros and Cons
Here are some pros and cons using PayPal:
| | |
| --- | --- |
| Pros | Cons |
| Supports multiple payment methods including | Missing POS features |
| Multiple e-commerce features | additional hardware cost |
| A recognizable name your customers trust | $20 chargeback fee |
| Venmo, PayPal, and cryptocurrencies | International credit card surcharge |
3. SumUp
SumUp provides POS hardware and software for businesses to use and accept all payment methods. SumUp's POS system can accept chip, swipe, and contactless payment methods.
Offered in multiple options and prices, the hardware connects to the SumUp mobile app via Bluetooth.
SumUp Offers Smaller, Affordable Mobile Payment Hardware and Customizable Full-fledged POS Systems for Large Businesses Needing a More Robust Set of Features, Including Cash Registers, Receipt Printers and Tablets To do.
The SumUp mobile POS system is perfect for merchants who need an easy way to process payments on the go. For example, selling merchandise at trade fairs and festivals will benefit from the flexibility of a portable POS system.
SumUp accepts all major credit cards and payment methods including Visa, Mastercard, Amex, Apple Pay and Google Pay.
1. Features
SumUp recently launched the ability to open a SumUp online business account.
Account holders can deposit payments directly into their SumUp bank account and manage them via the SumUp mobile app.
You will also receive your Mastercard within 2-3 days of opening your account.
SumUp has no minimum balance and no overdraft fees.
2. Price
There are two costs associated with SumUp.
The first is the transaction fee you pay per transaction and the second is its one-time cost of the physical device.
The personal transaction fee is 2.75% when the customer pays remotely.
Transaction fee is 3.25% plus 15 cents if via phone or payment link.
You pay 2.90% plus 15 cents for payments you receive when billing your customers online.
There is no monthly fee for using SumUp.
SumUp offers a variety of card readers.
They are all portable and can perform multiple functions, from creating catalogs to tracking transactions.
Here is the price breakdown for each device.
| | | |
| --- | --- | --- |
| Card Reader | Price | Features |
| SumUp Plus | $35 | Process over 500 transactions on a single battery charge. Connect to your device via Bluetooth. |
| SumUp Plus Cradle Bundle | $49 | Cradle makes it easy to present your device to your customers. You can easily remove your device on the go. Connect to your device via Bluetooth. |
| SumUp Solo | $99 | In addition to Bluetooth, the device works with Wi-Fi and free unlimited mobile data with an integrated SIM card. |
| The SumUp POS + Loyalty | Custom pricing | Equipped with cash register and receipt printer. This option is for large businesses that process more than $150,000 annually and have average purchases over $20. |
3. Pros and Cons
Here are some pros and cons using SumUp:
| | |
| --- | --- |
| Pros | Cons |
| Below average transaction fees | Do not accept risky traders |
| 30-day free trial | Merchants must apply for virtual terminals |
| International card processing capacity | Friday from 9:00 am to 7:00 pm only |
| No monthly subscription fee | Phone support is available Monday through |
Conclusion
The best POS system for your grocery store depends on many factors, including the type and number of stores, your budget, and the features you need.
In many cases, it makes sense to invest in the best system you can afford.
Hopefully the system can grow with the business.
Baca Juga: